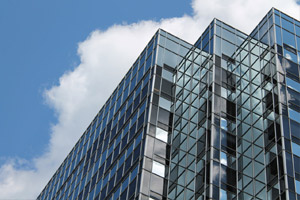 "I Checked With a Mover Before I Chose New Office Space," Said No One Ever
That's a shame, because people really should. Especially here in the Northeast, where architects design buildings as though they expect people to move in via teleporter. For example, we recently had a client put their goods in storage when the deal for the space they were planning to move into fell through. When they called us to set up delivery, it turned out they'd taken a space in an office complex consisting of two towers supported by only one loading dock.
That would not have been an issue in the Land of the Smart People, because there, the dock would have been located centrally between the two towers with a freight elevator serving each building. Since this was Westchester County, however, the dock was built at the north end of the North Tower, while the suite our client had taken was… you guessed it, at the south end of the South Tower. From dock to elevator to suite, the push was nearly a full quarter mile. Needless to say, the amount of manpower necessary to finish this job went well beyond what the client had originally budgeted for the project, even after we gave them what amounted to a sympathy discount.
The takeaway: Be smart. Get to know a mover. Take him or her with you when you look at new office space, and find out what would be involved in moving in. The budget you save could be your own.