We Firmly Believe:
"The sweetness of price is long forgotten when the bitterness of poor quality remains."
Dear Visitor,
Thanks for stopping by.
Whether you are a new or return customer,
thank you for your business and we look forward to serving you.
Sincerely,
Joseph A. Barone Jr.

President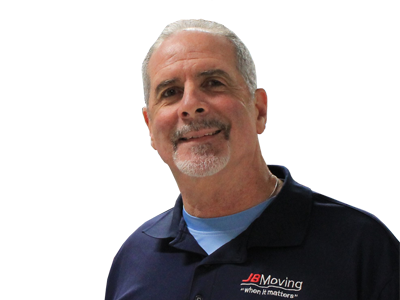 The next time you choose a moving company, consider our:
Our Excellent Reputation
Safe and Secure Storage Facilities
Full Service Domestic Residential & Commercial Relocation Services
Full Service International Residential Moving Company
Large enough to serve your needs, small enough to care.
Competitively priced, while being Customer Service Driven.
We are proud to have our facilities powered by solar energy.
Prior to starting his own business, Joseph grew up in New Rochelle, learning the moving business, at the age of 14, from relatives employed by Neptune World Wide Moving. Neptune was the largest independently owned moving company in the world. Later, he was employed by Doran Brothers of Greenwich, a third-generation moving and Storage Company, representing Allied Van Lines. After the original owners sold out, it resulted in him leaving a secure union position and benefits, to fulfilling a lifelong dream. Joseph and his wife Sharon, who worked for Tuck Tape in New Rochelle for 18 years, leased a truck and the rest is history.
Acquiring two small independent moving companies, Franks Transportation Services of New Rochelle established in 1950, and Jay Bee Moving of Mount Vernon, together with J.B Moving Services, extended his rights and service area from Maine to Florida. Learning a valuable lesson from the past two owners of the above-mentioned companies: "storage and real estate are the keys to success and retirement in this industry!"
Joseph and Sharon celebrate 33 years of success as President and Secretary of J.B. Moving Services Inc. Incorporated in 1986 he started with a leased box truck, provided contract packing and moving services, utilizing a home office, basement and garage. Graduating to a rented garage for additional materials and equipment, he then leased a 5000 square foot building in New Rochelle. After a five-year lease, he bought the building where the company operated for three years until additional warehouse space was needed. Next door offered 10,000 square feet of additional space. Further growth and good will required leasing 20,000 square feet in Port Chester for three years, and 10,000 square feet of additional space in the same development.
As the lease term ended, and realizing the amount of monies spent leasing, JB searched for a location to buy and build. Westchester space was not to be found and Stamford was booming. Securing one plus acre in Stamford near the Old Greenwich border was a golden opportunity. Building a 25,000 square foot climate-controlled state-of-the-art warehouse was no longer a dream!
In 2008 we added the self storage addition attached to our Stamford headquarters. Completing a dream to provide climate-controlled self-storage, and giving customers a one-stop-shop and choice in storage. Unlike other self storage companies, we can cater to clients needing a service to accept their product while they conduct their business and have the capabilities to access their product at their convenience. 2015 acquired 30,000 square feet of warehouse space in Bridgeport CT.  2021 another 25,000 SF of climate-controlled space in Port Chester NY. The company currently has 100,000 square feet of warehouse space.
Among the accounts that Joseph has served, are reputable firms such as Hyperion Software; The US Tennis Association: Dunn & Bradstreet; Swanke, Hayden & Connell, Architectural firm; Iona College; Monroe College; College Of New Rochelle; Brunswick School and Blue Sky Studios.
Joseph formally sat on the board for the Connecticut Better Business Bureau, Co-founder and Vice President of New Rochelle Cal Ripken Baseball, former board member and coach of CYO basketball, Holy Name of Jesus, New Rochelle, and 10 year member and past Vice President of the BNI White Plains Ambassador chapter. He is a golf member at Pelham Country Club since 1996 and has successfully moved over 350 members' homes and businesses to date. Joseph and Sharon were born and raised and still reside in New Rochelle.
Joseph has three sons, two sons working in the family business, Joseph 111 and Jesse, and his youngest son Jason is a New Rochelle Policeman.
JB Moving Services Inc.
222A Selleck St.
Stamford,CT 06902
FAX: 203-274-8496
JB Moving Services Inc.
480 Bunnell St.
Bridgeport, CT 06607
FAX: 203-274-8496