Most Special Moving Services A Provided In-House
This means you don't have go out and hire a specialist to assist in the breakdown and relocation of your oversized or otherwise awkward items. At JB we provide these moving services for you saving you time and money.  We have in house experts to assemble or disassemble just about anything. Please contact us if any of the following items need to be moved or stored.
Do you have a…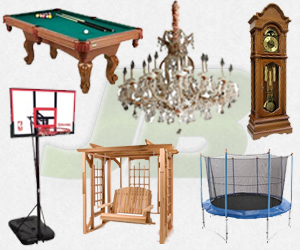 Basketball Hoops
Billiards
Bunk Beds
Ceiling Fans
Chandelier
Swing Set
Grandfather Clock
Computer Desk
Dishwasher
Dryer (Gas & Electric)
Exercise Equipment
Flat Screen TV
Gas Grills
Game Tables
Gym Equipment
Home Theater
Refrigerators
Trampoline
Washer / Dryer
Please Inquire about more of our services.
Call Today To Get A Free, No Obligation Estimate For Your Move!