JB Moving Formerly JB Franks, Professional, High Quality, Full Service, Local and Long Distance Household and Commercial Moving Company. We Provide Containerized Storage, Self-Storage, Record Retention and Third Party Services Serving .
Let Us Help You Plan Your Move
Planning is key with JB
We have aquired the knowledge to make your move a smooth one. While you can expect the best in service and value, the are some things you need to do in order for the easiest possible relocation.
Below, we have outlined a few categories and services that will help you along the way.
Please take some time to read this important info.
---
SPECIALTY SERVICES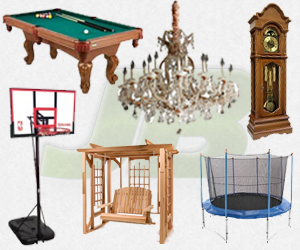 Do you have a grandfather clock? or how about a billiard table or swing set? If you have some of these items, you will need a third party service company to come in and disassemble these goods and reassemble at destination. Well, not with us. At JB, we handle these items in-house so you can feel confident all your goods will be moved with one phone call.
---
HOME CONFIGURATION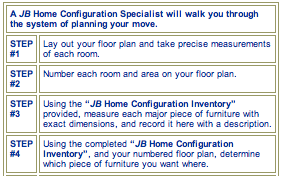 At JB we think ahead and plan all aspects of the move. We came up with a detailed numbering system that allows the placement of your goods in a predetermined place.
---
THE CRITICAL PATH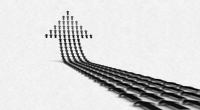 If you are moving a small or large business JB has been down this path before. The Critical Path is a check list that will help you feel better about the task you have. The content is downloadable in PDF format as well.
---
MOVING TIPS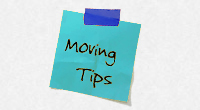 Within these pages we have a couple of checklists and great information on what to pack, what not to pack and how to get started.
The content is downloadable in PDF format as well.
Moving Tips And Checklist:
What You Need To Know Before Moving: